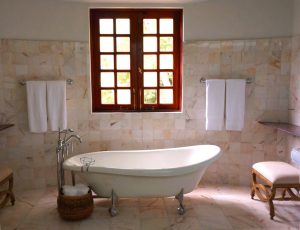 Whether it's to start the morning or after a long day at work, everybody loves a soothing hot shower, especially if it is newly renovated! From a full bathroom to a luxury washroom, here are a few tips to give your bathroom that refreshing look.
Set the Mood
It might sound simple, but a dimmer light will ease the mornings. Without the light beaming so bright, you will wonder why you hadn't done it sooner. How about lighting some candles for that great smell and relaxing tone. Just don't forget to blow them out after!
Bluetooth Speaker
Now I don't know anyone that doesn't like to sing in the shower. Whether it's listening to the radio or blasting out your favourite album. Waterproof speakers can be brought for less than £20!
Warm Towels
Getting out the shower is often chilly, so why not warm the towels. Hanging the towels on an electric towel rack will warm then up whilst you're in the shower. That way you will stay nice and cosy after the shower.
Cosy Toes
Think of the luxury of a heated floor whilst getting ready! A foot warmer mat can also be used under the sink and bath to keep those toes cosy.
Perfect Pressure
Do you have a powerless shower, how about replacing it with an adjustable rain-can showerhead to get the full relaxing experience. If you are taller, an extension can also be added at the same time to stop the need to stoop over when shampooing.
Add Character
From paintings to photography they all add character. Usually light-blues and greens look great in the bathroom. Although avoid any fabrics as these could get damaged due to the steam.
Bathtub Shelf
A multi-purpose bathtub shelf; whether it stores the essentials like body wash and hair products or you use it to hold you drink and book for complete relaxation amongst the bubbles.