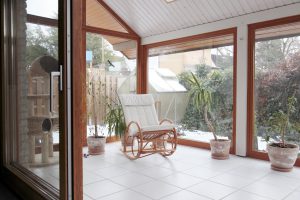 There are many advantages to adding a conservatory to your home. A dining room, office, home entertainment room or even just for the extra family space. Although I'm pretty sure you all know how cold and dark conservatories can get in the winter month. We have put together a few ideas to keep the warmth and reduce the energy bills.
Under-floor Heating
The principle with this is that heat rises, so heating under the floor with either water pipes or electric coils will efficiently heat up the entire room. Although this is an excellent way to ensure heat into the room, it isn't practical if the conservatory is already built. With conservatories that are already in use a simply rug or carpet with thick underlay will help with the warmth under foot.
Windows
Unfortunately most conservatories are mainly constructed of windows. They are never going to be as good at retaining the heat as the modern insulated wall but having a double or triple glazed window really does help. It may be costly if they aren't already double glazed but the significant energy saving do outweigh the cost.
Draughts
Blocking the draughts is extremely important. No one wants the heat they just paid for to escape. Fitting a draught proof internal door can help retain the heat. How about using a trust worthy draft excluder? It is also worth thinking blinds or curtains, that way you can have them open when the sun is out and closed when the heating is on.
Lighting
This isn't something you particularly need in the summer, however once the winter months start to draw in. The mornings and nights become considerably darker. Using energy efficient lighting in these periods will save on your energy bills. This is also a good idea to implement through the rest of the house.
Looking at buying a conservatory? Don't forget to visit our

calculator page

to see how we can help you!