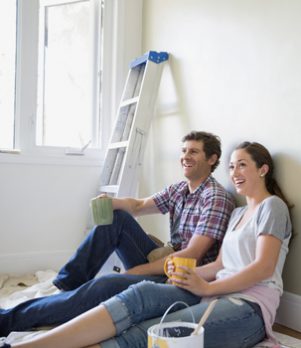 Home Improvement Loans
Thinking of adding a new conservatory or loft conversion? With our help, you can give your property the makeover it deserves.
Making improvements or developing your property will not only transform your home into a more practical and pleasant place to live, but can also also increase its value when you come to sell it in the future.

'I explained my needs and Pegasus were really knowledgeable about matching those with the products in the market. They are the 'go to' people if you are looking for an intelligent, tailored and fast solution to your financing needs. Great job and keep it up !!'
How can I pay for my home extension?
Moving house is rarely simple, and it's never cheap – so for a lot of our customers, the option to extend or improve their current home is the best and most cost-effective solution available. And that's where our flexible home improvement loans come in.
Making improvements to your property will not only transform your home into a more practical and pleasant place to live, but can also also increase its value when you come to sell it in the future. For example, adding a loft conversion costing £20,000 to your house can increase the value of your property by £40,000 – while adding a conservatory could add a whopping 11% to the sale price! (That's according to TV's famous estate agent, Phil Spencer.)
Whether you're on the hunt for competitive kitchen finance or need a home improvement loan for a professional loft conversion, our team of personal finance experts have the know-how to help you find the best deal. Offering a winning combination of friendly service and financial expertise, the advisors at Pegasus Personal Finance will guide you through the application process – giving you complete peace of mind every step of the way.
If you're looking for something a little more obscure, we can help there too. Our home improvement loans cover everything from new conservatories to solar panels on finance – giving you the freedom to handpick all the elements of your dream home without having to pay up-front.
At Pegasus Personal Finance, we work closely with a diverse panel of specialist lenders – and this helps us to deliver competitive personal loan rates to all of our customers. Regardless of your credit history, our dedicated team will work to find you a deal that suits your budget – with monthly repayments you can afford.
On top of that, we'll process your application within the hour and, if you're successful, the funds will be transferred into your account as soon as possible – meaning you can spend less time waiting and more time building the home of your dreams!

Questions? CALL 0800 066 2882
Our experts are always ready to help
(7.9% APR illustration)
Apply Now
Rates may vary depending on loan amount and individual circumstances. Subject to status.
How do home improvement loans work?
If you already know how much you're looking to borrow, that's great! Just fill in our online application form and one of our home improvement loan specialists will get back to you within 60 minutes of applying.
Not sure how much you need to borrow? No problem! At Pegasus Personal Finance, our expert advisors can help you decide on an appropriate home improvement loan for you – from the amount you'll be borrowing to the monthly repayments you can expect.
Loan Benefits
Easy online application
Borrow from £5,000 to £100,000
Flexible finance options
Secured & unsecured loans
Competitive interest rates
What's next?
Once you've decided on the best loan amount for you, we'll take care of the boring stuff. Leave the paperwork to us, and we'll get the money across to you as soon as we can – so you can get excited about planning your home improvements.
So whether you want £15,000 for some new windows or £100,000 for a large extension, you can make your house a home with a home improvement loan from Pegasus Personal Finance.
Kitchen finance
No home is complete without a beautiful kitchen – and that's where we come in. If you've dreamt of stunning surfaces, a state-of-the-art cooking station and a picture-perfect dining setup, our kitchen finance deals are just the thing to help you make this a reality. Renovate your room or invest in a brand new kitchen extension by applying for one of our home improvement loans today and avoiding the up-front price tag.
Find out more about buying buying kitchens on finance.
Loft conversion finance
Loft conversions can create bags of beautiful, usable space in your home – but there's no doubt they can be expensive. Whether you're interested in restructuring or completely converting your attic, loft conversion prices don't have to be a deal-breaker when you choose Pegasus Personal Finance. Get approved in advance to shop around at your leisure – or apply now if you've already been given a quote, so that we can set the wheels in motion!
Find out more about our loft conversion finance options.
Conservatory finance
Nothing invigorates a home like a conservatory flooded with gorgeous natural light – and you can avoid paying for yours all in one go by exploring our conservatory finance options. Give your garden some extra oomph or create a beautiful new greenhouse in your backyard, with competitive interest rates on every home improvement loan – and watch your dream extension take shape, with the help of our friendly and professional team.
Find out more about financing conservatories.
To learn more about our wide range of home improvement loans, call our helpful advisor's today on 0800 066 2882 and they'll talk you through your options. For a quick quote right now, you can head straight over to our online home improvement loan calculator. After that, all that's left to do is get approved and take the first step towards a home you love!

Quick, Easy Approval
On average loans are approved within 60 minutes of submitting your details to us
(7.9% APR illustration)
Apply Now
Rates may vary depending on loan amount and individual circumstances. Subject to status.